STARTING KARTING

Karting is recognised worldwide as the primary stepping stone to top levels of motorsport. The world's most talented and successful drivers started their careers in karts. Huge names like Michael Schumacher, Sebastian Vettel and Lewis Hamilton began their respective paths to driving superstardom behind the wheel of a kart.
Are you considering following in their footsteps? Are you interested in buying a kart and driving it as a hobby with a view to competing with similar–minded drivers locally or nationally? Are you considering getting your son or daughter into karting seriously?
If your answer to any of these questions is yes there are a number of factors to take into consideration. There's your kart itself and its related costs (storage, tools, transportation, etc), then there's safety wear, maintenance, parts, mechanics, race licence, joining a club, etc, etc.
But there's no need to get bogged down with all of that straight away.
What if you concentrate on getting all that equipment together only to find that your little darling discovers girls...or worse, boys...and loses interest in karting?
The Al Ain Raceway Race School is a perfect way to 'test the water' without the associated costs. It is an excellent way for drivers to build and develop their skills in a controlled environment and it provides a solid foundation for future advancement.
But you've got to here and you've already read the Race School information...so you must want to take it one step further, right?
Well, our advice is not to rush into anything. Take your time to make the right decision. Do some research. Don't take just one person's word for it.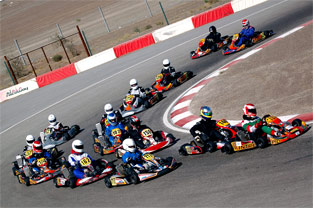 Ask yourself some searching questions like, what class of kart racing do I (or my son/daughter) want to compete in? What classes are there out there? What's the difference? What classes am I eligible for? How do I find out the rules and regulations? Is my chosen kart going to be easy to maintain? Is there support? Can anyone help me if I get into difficulty?
We would always advise attending some race events before committing to anything. Speak to the competitors and the mechanics as well as the organisers (when they're not too busy). That's how you'll get the honest, well–rounded answers you need. If this sounds reasonable then the AARKC Honda Challenge may be an ideal way forward.
Once you've made your mind up, and BEFORE you go throwing your money around, you'll need a race licence. And your race licence isn't just a case of filling in an application form. You need to take an ARKS Test.