RACE SCHOOL

The purpose of the Al Ain Raceway Race School is to train and develop individuals to ensure that they reach a competent level of driving, both in race theory and practice.
It is an ideal introduction to the sport of kart racing, under the supervision of our experienced circuit team.
Content:
The Race School comprises 5 modules, each one covering a different aspect of karting.
Module 1 is a basic but detailed introduction which covers kart controls, flag meanings and circuit rules, concentrating primarily on safety.
Each module thereafter focuses on specific areas of driving and each one follows progressively on from the last, making it necessary to take them in sequence.
In addition to classroom theory, pupils will be expected to demonstrate their knowledge behind the wheel on the race track under the keen scrutiny of our qualified Instructors who are there to monitor, correct and educate as the drivers hone their skills.
Assessment:
Drivers will be assessed on each module through a combination of written, oral and practical tests which are carefully designed to draw out the theory explained in the classroom, as well as to provide the opportunity for each driver to display their developing capabilities on track.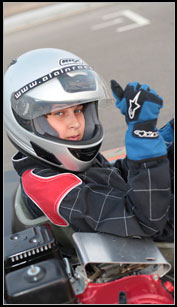 On successful completion of each module students will receive a certificate indicating their level of achievement, thereby granting permission to proceed to the next level.
Qualification:
Drivers passing their final assessment (module 5) will have displayed an impressive knowledge of safety, circuit rules and driving theory and reinforced this knowledge by demonstrating notable proficiency behind the wheel.
Graduates are then eligible to join the Al Ain Raceway Kart Club, in which members can compete in a full Championship in rental karts alongside semi-professional racing drivers (see Kart Club page for additional information)
Alternatively, drivers may opt at this stage to buy their own kart and compete in the National classes as part of the Al Ain Raceway Kart Club. If this interests you, be sure to check out Starting Karting.
Al Ain Raceway Race School 5 Module Training & Assessment Programme payment options:
Progressive payments AED 350 (per module)
Full advance payment AED 1500 (save AED 250)
The above-mentioned prices are inclusive VAT