25 April 2017
SPECIAL DEALS ON 2017 SPEC MAX EVO ENGINE RANGE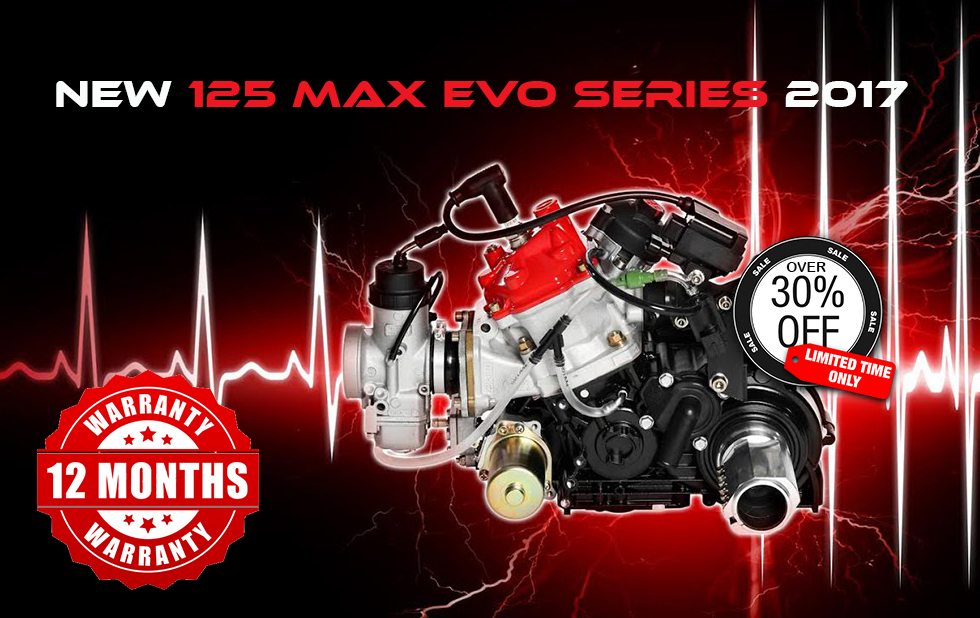 We are pleased to reveal news on some amazing discounts on brand new 2017 spec MAX EVO engine units ahead of the 2017-18 season.
The latest range of engines and accessories have been extremely well received across the global karting community.
They are proven to offer unparalleled consistency in addition to the unrivalled levels of reliability and ease-of-use that have become a trademark of the Rotax brand.
It should be noted that last year's EVO components (as well as original MAX components) will largely remain legal to be used throughout next season so there is no obligation to upgrade or buy new.
However, we have received multiple requests for the new products and, to support any competitors wishing to take advantage of the new components during the summer, we have devised a sensational discount scheme for a very limited time.
The changes over last year's engine spec can be seen in this video and are summarised below:
1. Improved manufacturing technology for 125 Junior MAX EVO cylinder ensures equal performance (also used for 125 Mini MAX EVO and 125 Micro MAX EVO)
2. New battery holder and cover [for quick battery exchange] incorporates the ECU which is encased in a rubber pad to minimise vibrations to ECU, connector and cables.
3. New multi-function switch attached directly to the battery housing.
4. New cable harness with plug-in connections to multi-function switch. The connector for battery charging is aligned with the cable harness while the plug-in connector for the electric starter incorporates a ground connection for the overall electrical system.
5. Support plate system is more compact with electrical connections for the ignition coil and magnet valve only.
6. New [optional] ECU for Junior MAX EVO and MAX EVO (also used for Micro and Mini MAX EVO) - slightly altered ignition timing allows for the use of a bigger main jet size which promotes good throttle response at low rpm while still offering a wide rpm range.
7. New specifically-designed iridium spark plug with solid connector and long durability covers a wide heat range.
Items 1-5 will be available as part of an upgrade kit while items 6 and 7 can be bought separately as required. All the above come as part of a new engine unit.
SPECIAL OFFER ON IMMEDIATE PURCHASE OF NEW EVO 2017 ENGINE:
| | | | | | |
| --- | --- | --- | --- | --- | --- |
| DEAL# | NEW ENGINE PURCHASE - EVO 2017 | RETAIL PRICE | SALE PRICE | SAVING! | % |
| 1 | 125 MICRO MAX EVO-2017 | 9995 | 8995 | 1000 | 10.0 |
| 2 | 125 MINI MAX EVO-2017 | 12500 | 10500 | 2000 | 16.0 |
| 3 | 125 JUNIOR MAX EVO-2017 | 12500 | 10500 | 2000 | 16.0 |
| 4 | 125 MAX EVO-2017 | 13500 | 10500 | 3000 | 22.2 |
| 5 | 125 MAX DD2 EVO-2017 | 15500 | 10500 | 5000 | 32.3 |

FULL PAYMENT MUST BE RECEIVED BEFORE THURSDAY 18TH MAY 2017.CONFIRMATIONS MUST BE RECEIVED BY E-MAIL (dennis@alainraceway.com) NO LATER THAN WEDNESDAY 10TH MAY 2017. This e-mail must specify the type and total number of engines required.
CONDITIONS: MANUFACTURER'S WARRANTY!!! ALL ENGINES PURCHASED AS PART OF THIS PROMOTION WILL BENEFIT FROM 12 MONTH.
Please note that this offer does NOT apply to credit card payments.
ENGINES WILL BE AVAILABLE FOR COLLECTION IN AUGUST 2017.
NOTE: THESE DEADLINES ARE NOT EXTENDABLE UNDER ANY CIRCUMSTANCES!
EVO 2017 UPGRADE OPTIONS:
EVO 2017 upgrades will shortly be available for all Rotax kart engine specifications according to:
● EVO PRE-2017 to EVO 2017
● ORIGINAL MAX TO EVO 2017
Full details on EVO 2017 UPGRADE SPECIFICATIONS AND PRICES click here>>>
Al Ain Raceway Facebook Page for updates>>>
Al Ain Raceway Instagram Page for updates>>>