What is Arrive and Drive?
If you just fancy a spontaneous, no-nonsense blast around the track, our Arrive and Drive sessions cater for individuals and small groups.
From the youngest to the to the most experienced of drivers, this format provides the ideal hassle-free and low budget opportunity to practice and develop your driving skills in our fleet of high performance Intrepid rental karts.
On arrival all drivers will sign in, change into full race gear and receive a mandatory briefing on kart controls and circuit rules by one of our instructors before taking to the circuit to test their mettle behind the wheel.
All competitors, whether Cadet (7-11yrs), Junior (12-15yrs) or Senior (16yrs+) are treated to top-of-the-range, race-prepared karts, with individual lap time print-outs along with a performance graph and statistical information issued to every driver at the end of each session.
Our Senior karts are equipped with revolutionary, steering wheel-mounted information screens. Linked directly to our timing system, these displays allow competitors access to up-to-the-minute race data such as race position and current lap time, making it possible to constantly monitor your own progress on the way to challenging for the coveted lap record.

Arrive and Drive prices are the same for Senior, Junior and Cadet drivers but please note that we do not usually allow Senior drivers onto the track with younger drivers due to the performance and weight differences between the karts.
What is Arrive and Drive?
Arrive and Drive sessions are available for drivers of all abilities throughout the week, both afternoon and evenings, midweek and weekend. For karting sessions for children please see our Junior page for further details and pricing.
Arrive & Drive sessions at Al Ain Raceway are run on the premier track configuration - the 1.6 km International Circuit.
Sessions will be available in 15 minute durations and multiple sessions can be booked for drivers who want more of a challenge.
Discounts are available for drivers who want to become Al Ain Raceway Members. Check out the Membership page for more details on how to receive superb annual racing benefits through our Privilege Membership scheme.
| | | |
| --- | --- | --- |
| 15 minutes | AED 120 | Standard Rate (Basic Members) |
| 15 minutes | AED 60 | Privilege Member Rate |
Please note that new visitors will incur a mandatory basic membership fee of AED 10 valid for 12 months, which comes with the following benefits
Enjoy a complimentary session on your birthday (valid email address must be provided)
Receive all your lap-time results via email
Get quick access to the track using Scan 'N' Drive
Get access to the Al Ain Raceway Exclusive Facebook Application
Get access to the Al Ain Raceway Mobile Application (available on Android & iOS)
Keep up to date with our promos & offers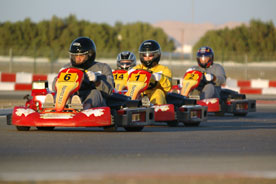 Sessions are subject to availability so we strongly advise drivers to contact the circuit in advance to check timings. Further, all drivers should arrive at least 30 minutes before their scheduled session time to allow sufficient time for administration and briefing.
These are public sessions and open to the general public. Exclusive use of the circuit for your small group is a possibility but this must be booked and paid for in advance. Call the sales team for details on 03-768-6662.
All drivers under 16 years MUST be accompanied by their parent or legal guardian.
ID is required. Drivers must wear flat–soled sports shoes.
Al Ain Raceway Recommended
Think you´ve got what it takes to produce a winning
lap time at Al Ain Raceway?
Enter any of our Arrive & Drive sessions and pit your skills against the clock. If your time is the fastest of the month you´ll win an exciting prize!
For further details of what´s on offer check out our "Time of the Month" leaderboard on display at Reception.
Trying to knock that extra few tenths off your lap time but finding it impossible?
Or maybe you fancy getting the jump on your mates before your next spirited outing?
Private tuition sessions are available with one of our top International instructors from AED 420.
For more information check out our Race School page.
The above-mentioned prices are inclusive VAT